News
The latest news on this change — carefully culled from the world wide web by our change agents. They do the surfing, so you don't have to!
Step-Father's Day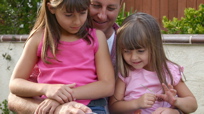 It sometimes takes strolling down the aisles of several stores to find the perfect card for special occasions. But try finding a card for a tricky situation, like a Father's Day card for a step-dad. It's not necessarily that your step-child loves you any less, but the words just may not seem right.

Because it's just a little awkward to give a card that says "Dad" across the front to a man that you address by first name.

If you're into sending things via the web, we've got a find right up your alley. Thestepcardcollection.com has a selection of e-cards for the whole step-family, from the Father's Day cards you were searching for…to a note to a step-sister in hopes of patching up the last squabble.

And if you want to get a little more personal, bring out the markers and construction paper. Nothing shows you care like a little homemade TLC.
Posted: 6/10/08