News
The latest news on this change — carefully culled from the world wide web by our change agents. They do the surfing, so you don't have to!
Pack Up Time!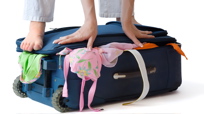 It's July now (can you believe it?) and within a month or so, you will be starting college. It's exciting, isn't it?
If you're going away to school, you should know the right way to pack. There's a ton of advice out there on what to pack and what not to pack, so it can get a little bit confusing. To make your life easier, we found a video that will guarantee your packing success.

Now stop reading this update, check out the video and get packing!
Posted: 7/2/08