News
The latest news on this change — carefully culled from the world wide web by our change agents. They do the surfing, so you don't have to!
"Get Rich" Colleges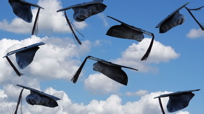 In order to compile the list of schools that have produced some of the richest individuals in the nation, Forbes had to get a little help from Payscale.com. The criteria were that the school had to have more than 1,000 students, the salaries had to be for full-time employees, and also included bonuses, commissions, and profit-sharing.

All things considered, here are the schools cranking out the rich folks:

1.) Dartmouth College
2.) Princeton University
3.) Stanford University
4.) Yale
5.) MIT
6.) Harvard
7.) University of Pennsylvania
8.) University of Notre Dame
9.) Polytechnic University of New York, Brooklyn
10.) University of Chicago

We were only really surprised by number 9...For a complete list of the schools and their median salaries, check out the Forbes article.

We want to know—did you base your college choice on finances and what you'll make after you've earned your degree? Or is there more to your education than just money?
Posted: 8/7/08