News
The latest news on this change — carefully culled from the world wide web by our change agents. They do the surfing, so you don't have to!
Your Best First Job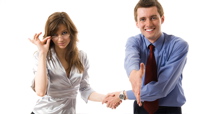 In all the elation of starting your new job, you may or may not recall the first job (or internship) you ever had. Whether it was babysitting, getting coffee or parking cars, the things you learned during those early days paved the way to where you are today.
Experts say that the lessons learned on a first job are the ones that are the most useful. While it may not predict where your career ultimately goes, it's definitely a stepping stone into the wild world of office culture. Even if you've been working awhile, it's helpful to recall the following tips for neophytes—perhaps they'll jog some memories from your first gig.

Stop and listen. As a new employee, you're full of great ideas on how to make the workplace better. Best to keep them to yourself for the first few weeks, and really understand the nuances of the business before you start suggesting solutions.
Study up. Getting the job is just the start. If there's an employee handbook, read it. Learn about the culture of the office, and the culture of the industry if it's new to you. Read up on the competition and stay abreast of industry news.
Ask for feedback. If you're uncertain as to how you're doing or whether you're on the right track with a project, speak up! Be proactive about seeking feedback and then let your employer see how you're changing the way you do things based on their response.
Do you have a tip for our members starting a new job? Share your career tips with us!
Posted: 9/1/08