News
The latest news on this change — carefully culled from the world wide web by our change agents. They do the surfing, so you don't have to!
Achy Breaky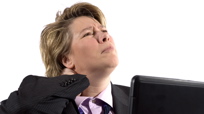 Beware of the aches and pains a new job may bring. We're not talking about your sore ears from your bosses rants and raves, but aches in your back, neck, and/or wrists.

Forbes reports that most office workers complain of lower back pains, stiff necks, and numb wrists. Oh and the inevitable "Blackberry thumb." Nevertheless, Forbes manages to come up with itty-bitty solutions (in picture form) that will ease these pains.

Spending most of the day sitting at a desk and staring at the computer screen can be a little tiresome. That's why our favorite tip is taking small breaks every 30 minutes—because everyone could use a break now and then.
Posted: 6/25/08