News
The latest news on this change — carefully culled from the world wide web by our change agents. They do the surfing, so you don't have to!
Feeling Sorry for the Rich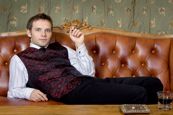 Living in New York city puts you face-to-face with the economic crisis on both ends of the spectrum. The guys who bought you and your girlfriends drinks all summer at rooftop bars are suddenly absent from the scene, or depending on you for a little kindness. Taxi drivers, manicurists and delivery men are mourning the loss of tips and customers. Everyone's got it bad.
Even those who have own a beautiful apartment uptown, a vacation home in Florida, a studio downtown, are dripping in diamonds and household help. Alexandra Penny tells the Daily Beast how she's lost it all...and frankly, it made me a little bit sick to my stomach.
Full disclosure: I also grew up pretty comfortably. I have a master's degree and live fairly well (though by no means as well as Ms. Penny.) I haven't had to scrape by like some people do, but I do have to manage my money and budget, especially in this city.

So that said, there is a part of me that feels sorry for Ms. Penny when she laments the loss of her life savings in the Madoff scandal. For those who aren't from around these parts, the net of the net is that the financier ran off with $50 billion in a giant Ponzi scheme, leaving many like Ms. Penny completely wiped out.

She seems to have worked really hard for the money she invested, some of it earned at less than glamorous jobs she toiled at as a single mom trying to raise a child in a harsh city. Still, I felt my contempt rising as she talked about having to let her maid go and sell off her second home and art studio.

There are so many people affected by our country's financial crisis who are in real dire straits. Who don't have the choices Ms. Penny has. They have lost their jobs, homes and cars. They have no jewels or art to sell, no properties that can bring in cash. They work at low-level or mid-level jobs and many didn't have any savings or only a tiny nest egg.

What do you think? Should we feel bad for everyone who loses in investment schemes? Am I judging too harshly or assuming too much about Ms. Penny from her article? We'd love to hear your thoughts! -Kristen Ball
Posted: 12/18/08