News
The latest news on this change — carefully culled from the world wide web by our change agents. They do the surfing, so you don't have to!
The Naked Home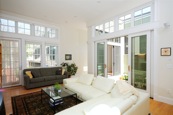 Much has been written and said about the virtues of home staging; it provides potential buyers with an idea of the home's potential, its relatively easy, and it can help your home sell in a shorter amount of time.

However, there are some agents who take a more scaled-back approach to home décor. "I always prefer a blank canvas," Doreen Roberts of MasterKey Real Estate in Fremont, California told the Los Angeles Times. "The best scenario is for the sellers to either move first or at least be gone for the first important week of market time."

Roberts and other agents like her say they have an easier time selling un-occupied, un-furnished homes. For one thing, they can be shown at any time, and for another homebuyers can dream up anything they want.

Experts say if you're going to show your home in what's essentially its birthday suit, there are certain steps you should take. For one, make sure to give it a good floor to ceiling cleaning job, because without furniture, every little stain will surely show through. Also, make sure the front yard is looking tidy and if you like, provide photographs of what the house looked like with furniture.

What do you think entices more sellers, an empty house or a staged one?
Posted: 9/29/08