News
The latest news on this change — carefully culled from the world wide web by our change agents. They do the surfing, so you don't have to!
An Energized Market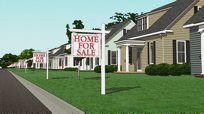 The growing popularity of saving energy has not only affected the way we travel, but it's slowly beginning to affect real estate. British landowners have seen the value of their homes deplete after deafening wind farms have been constructed nearby.

"For people living near wind farms, both now and in the future, it will be a disaster," said Jane Davis, a woman whose home was once worth nearly $350,000 and now is virtually uninhabitable due to excessive noise. "There are many, many people living in Middle England who have worked hard all their lives and yet will see the value of their homes suddenly diminish."

But not everyone selling a home connected with alternative energy is being affected negatively. Solar energy companies like BrightSource Energy are rushing to buy up land in destroyed desert areas of the Southwest. According to the The New York Times, there is currently an "all-American gold rush" underway in Louisiana, Texas and Alabama after a huge natural gas deposit was discovered by speculators. Humble property owners are becoming overnight millionaires thanks to payouts from energy companies wishing to harvest the gas. Hopefully if the speculators come knocking, the price will be right for you to sell your home.
Have you found it hard to sell your home? If so, do you think that energy-efficient technology is to blame? [Telegraph]
Posted: 7/29/08