News
The latest news on this change — carefully culled from the world wide web by our change agents. They do the surfing, so you don't have to!
The 10 Most Expensive Colleges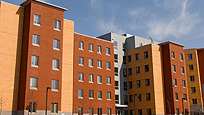 The economy has taken its toll on everyone--including universities. Unfortunately, you're the one who has to bear the burden! We don't know what schools you're looking at as you save for college, but consider the priciest of the pricey:

George Washington University: Washington, DC - $40,437

Sarah Lawrence College: Bronxville, NY - $40,350

Kenyon College: Gambier, OH - $40,240

Vassar College: Poughkeepsie, NY - $40,210

Bucknell University: Lewisburg, PA - $39,652

Carnegie Mellon University: Pittsburgh, PA - $39,564

Colgate University: Hamilton, NY - $39,545

Columbia University: New York, NY - $39,326

St. John's College: Annapolis, MD - $39,154

Wesleyan University: Middletown, CT - $38,934

Based on what we (and most of our cohorts) spent time doing during undergrad, we aren't sure it's worth this kind of coin. A college education is definitely important, but so is being able to get by after graduation without huge loan payments (especially if you leave one of these fine institutions with a Liberal Arts degree as most tend to do.)

Do you think an undergrad degree from one of these colleges would give you enough advantage to warrant the expense, or is State U good enough for you? Let us know how you plan to finance education for you or your kids.
Posted: 11/3/08