News
The latest news on this change — carefully culled from the world wide web by our change agents. They do the surfing, so you don't have to!
Student Loans and You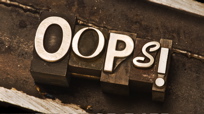 If you've taken out a loan for college, that's cool. Almost everyone needs some help these days with the rising cost of tuition. Just make sure you're using the funds wisely, or you may find yourself way in over your head!
Kristy from Master Your Card shared her experience on how she used her student loans in college. Essentially, she used them for more than just school. Kristy took out a loan for $20,000 and took six months off from work to live off the student loan money.

While she may have enjoyed the six months for free at the time, the repayment on that unnecessary amount was probably really hard to pay back! She freely admits it was a stupid money move, but she's learned from her mistakes and is sharing with others in the hopes it won't be repeated.

Pretty bold to share this story with others, we think. Tell us what you've learned about student loans.
Posted: 10/24/08