News
The latest news on this change — carefully culled from the world wide web by our change agents. They do the surfing, so you don't have to!
Saving in September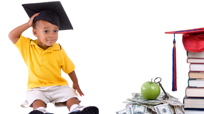 Since we're already thinking about school schedules and whatnot now that September is in full swing, it's only fitting that Sallie Mae and UPromise want us to be thinking about saving for college. All.Month.Long.

That's right, everyone! Happy National College Savings Month! We didn't get you a gift or anything, unless you count the gift of useful information...

Did you know that only 9% of families paid for college last year using a college savings fund? That means most people out there don't know about 529 Savings Plans that can help them set aside money for college, free of federal income tax. Hello? Why aren't we all taking advantage of that?
There are so many ways to save for college, and even though the price of tuition is going higher and higher, don't let it stop you from saving what you can! Tell us how you're setting aside funds for your student (or yourself) as we get back into the swing of the school year. Do you have a 529 in place? Why or why not? [Forbes]
Posted: 9/19/08