News
The latest news on this change — carefully culled from the world wide web by our change agents. They do the surfing, so you don't have to!
How to Get a Debt Free Degree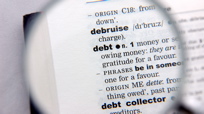 It's possible to leave school with no debt...rare, but possible. There's a new blog in the blogsphere that's dedicated to students and saving them money. Officially, the blog release date is December 1st, but we're getting the jump on it a little early to share some great content with you guys.

Studenomics.com has a few tips on how students can actually graduate college debt free. Even better, the budding community has also chimed in with some great tips of their own:

Live at home. Yeah, we know. But it'll save you tons of money and make sure you don't have to come back home after school because of uncontrollable debt issues, which is so much worse.

Buy used textbooks and share with others. Most people don't even crack open their textbooks after class is finished, so finding creative ways to save on textbooks because they are the biggest culprits of credit card debt.

Take more credit hours. Many schools may allow for more credit hours that are already factored into your tuition rates. For example, some may allow students to take 21 credit hours rather than just 16. Sure, there is some major sacrificing on your part - especially with time and your social life-but think of the benefits. With that schedule, you'll probably finish a semester or so early. You'll save money, get a jump on your future, and you're more likely to have less debt because you didn't waste money on partying. Hey, we're just saying.

Alright, now it's your turn. What can students and their parents do to help cash-strapped grads leave school with little-to-no debt?
Posted: 11/17/08