News
The latest news on this change — carefully culled from the world wide web by our change agents. They do the surfing, so you don't have to!
College Closures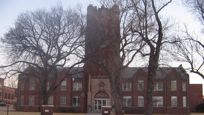 Like any other business, schools rely on students to fund programs through tuition. But they're also looking for donors to help build an endowment—their version of FDIC or NCUA insurance. As more and more people continue to struggle with their financial situation, many students may not be going back to their schools of choice. Among those closing their academic doors this year are Cascade College in Oregon, Pillsbury Baptist Bible College in Minnesota and Vennard College in Iowa.

The good news is that outright closures are pretty rare in the college industry. Of the 4,400 colleges in the U.S., only four closed in 2007. The bad news, though, is that while colleges have their endowments to fall back on when times get tough, many had less than $50 million in reserve, even before the economic trouble began. It's a sign that many may have been lured into big debts by low interest and attractive growth plans.

The best thing to do when considering college is to save and plan. Look into the schools you want to attend and pay attention to their financial records. Also consider the cost. It may be more cost-effective for you to go to public school as opposed to private. Either way, save early and often because education is one of the best investments you can make!
Posted: 12/4/08