News
The latest news on this change — carefully culled from the world wide web by our change agents. They do the surfing, so you don't have to!
Design Economics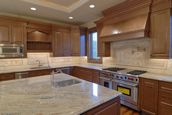 Because of the current economic crisis, many home designers are adding a new skill to their resume–bargain hunter. They're turning to new strategies, shopping at-horrors!-Ikea, or trailing behind the crew of "Extreme Home Makeover" and asking them for their leftovers. "Hey, Ty, are you going to use that wood plank? No? Awesome, I'll just throw it in my truck."

The Wall Street Journal reports that Barbara Harold of St. Louis was upfront with her designer and her project ended up costing $90,000 instead of $150,000.

Ok folks, let's set aside the fact that the Journal (and the New York Times) somehow manage to always find sources from the super-ultra-luxury tax bracket. It's still valuable information, as not all kitchen remodels or other projects will cost as much as an Ivy League education and not all designers charge Martha Stewart rates. If you look at the pure mathematics of the deal, Harold still saved about 4o% of her estimated cost.

Check out the rates of local designers. If they're able to help you make the most out of your space and help you find the best deals in the process, then it will be money well spent. Would you or are you enlisting the help of a designer, or are you going it alone?
Posted: 10/8/08