News
The latest news on this change — carefully culled from the world wide web by our change agents. They do the surfing, so you don't have to!
The Lights Are Bright...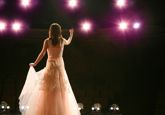 If you're into the creative scene, particularly that of Hollywood and Broadway, then you know it takes A LOT of money to finance these projects. The upside is that these projects create jobs and get people working toward a common goal. The downside is that during economic hardships, funding for these types of projects is usually the first to go.
That's Entertainment.

Broadway used to be a happy medium between art and money, but in recent years the shift has been much like Hollywood's. It's all about what can sell. Creativity has long since been stifled to make room for cookie-cutter work with a guaranteed audience. But, even with all of that money, times are still tough and investors are scared—to say nothing of individual donors.

The response from Broadway to this problem is to cancel shows. While there are many that don't agree with simply canceling shows as the solution to the financial problem, the more "radical" suggestions won't be implemented until there are no other options.

What say you, patrons of the arts? Are investors right to pull out from their creative interests in favor of more sustainable investments? And what are arts organizations to do in times of crisis? Tell us if your plans for the coming year include taking in shows and films as a means to "forget your troubles, c'mon, get happy."
Posted: 11/19/08