News
The latest news on this change — carefully culled from the world wide web by our change agents. They do the surfing, so you don't have to!
Giving Up Possessions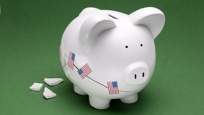 We don't like to think about giving up our prized possessions. But these days some people are doing just that. And doing so helps them pay their bills.

Even though we've collected our "prizes" for our enjoyment and hope we can sell them for a good price when we're ready to, today's economic realities are making some decisions for us. But maybe that's why we have these things in the first place. Their value brings buyers quick.

If you're thinking these same thoughts about some of your possessions, read this story. You'll be able to empathize with the folks quoted.
Posted: 3/20/09