News
The latest news on this change — carefully culled from the world wide web by our change agents. They do the surfing, so you don't have to!
Get Better Not Bitter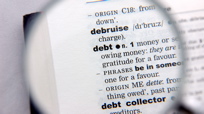 Wanna get out of debt fast? Well, you can't do it. It takes time.
Lost your job and still wanna get out of debt? Now, that takes some thought and a strong will, doesn't it? Yes, it probably does. But, look here. We found a blog by a guy who's in that difficult place.

He has will.

He has a perspective: Get better, not bitter.

He doesn't know how long it will take to get himself out of debt. However, he's inviting us to watch. It could be fun. Could be gruesome. He could be successful. And, we're rooting for him.

He asks, "will you make changes?" Good question. Stick with him on his journey if you're intrigued.
Posted: 1/30/09