News
The latest news on this change — carefully culled from the world wide web by our change agents. They do the surfing, so you don't have to!
The Ten Commandments of Proposing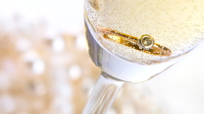 How many times does someone have to have a near death experience or face public humiliation before the proposers of the world will learn the rules of engagement?
A Chinese policeman from the Fujian Province was hoping to propose to his girlfriend with a ring hidden in a cake. When he wasn't looking, the hungry fiancée to be took a bite and swallowed the ring. She had to be taken to the hospital but eventually did agree to marry him.

For those of you who need something a little more set in stone, we started our very own commandments for proposing:

I. Thou shall not propose at a live sporting event

II. Thou shall not cook, bake, apply frosting to, congeal into a Jello mold or otherwise make edible thy engagement ring.

III. Thou shall not beg.

IV. Thou shall not covet thy neighbor's fiancée.

V. Thou shall not purchase thy engagement ring from a gumball machine.

Our list falls short of 10. Any suggestions to help us round out the list? [Metro & Times of India]
Posted: 6/19/08