News
The latest news on this change — carefully culled from the world wide web by our change agents. They do the surfing, so you don't have to!
Proposal: 2.0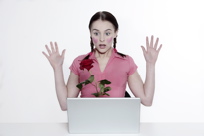 Michael Weiss-Malik wasn't satisfied with the beta version of his marriage proposal to his long-time girlfriend, Leslie Moreno back in April; he tells the San Jose Mercury News that he found it "lacking in pizzazz."

But unlike many guys who resign themselves to their so-called failures and move on, he spent months preparing a new proposal. "So I did what any Silicon Valley geek would do: I decided to upgrade to 'Proposal 2.0,'" he says.

And the second proposal was indeed geeked-out. Weiss-Malik hoisted up a sign that read, "Marry me, Leslie!!" where he knew a Google earth camera would be filming him. He then launched www.MarrymeLeslie.com, a web site with Moreno's contact information and a message imploring strangers to urge her to agree to marry him. The next day her inbox was flooded with emails.

It worked. She said yes – again.

Did your proposal not go as planned? Maybe you could do a do-over, but you better make sure it's got some pizzazz!
Posted: 8/7/08