News
The latest news on this change — carefully culled from the world wide web by our change agents. They do the surfing, so you don't have to!
Out of Left Field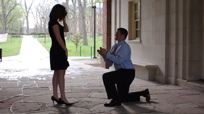 If you're looking for a foolproof marriage proposal idea, plowing your message into the nearest field seems to be a pretty sure bet. It worked for two industrious gents located thousands of miles away from each other.
Twenty-six-year-old Brian Huserik mowed out "JANELLE WILL YOU MARRY ME," into a grassy field in Oregon, and 27-year-old Brit Ryan Szabo plowed "SARAH MARRY ME," in a giant cornfield. Each of the guys hired a helicopter to fly over his creation so he could propose to his girlfriend. Although the stories are completely unrelated, each of the girlfriends had strikingly similar responses.

"I was shocked and speechless," said Janelle VanDyke, of Oregon. "I answered him as soon as I could talk."

'It was the greatest day of my life—the most romantic thing anyone has ever done. I had to read it a few times before it sunk in," said Sarah Garside across the pond in Britain.

Although you might not want your proposal to be un-original, there's something to be said about not messing with a good technique. You can always add in your own special details like the location, the message or even which kind of helicopter you decide to rent.
Posted: 7/30/08