News
The latest news on this change — carefully culled from the world wide web by our change agents. They do the surfing, so you don't have to!
What Does McCain Do Now?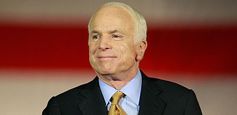 John McCain fought a good, long battle for the Presidency. After his concession speech (which we heard some Dems in our neck of the woods actually thought was very gracious, generous and humble) our thoughts turned to what someone does after a bid for the White House.

McCain is well past the age of "official" retirement, but it's hard to imagine him just not doing anything. Fortunately, there are a great many things to keep one occupied when going to the (Oval) office is no longer an option. And then there's the fact that he still has two years left in the Senate this term, and could run again in 2010 (which would make him a rich 80 at the end of his career.)
Whether he retires or not, we're sure that some R&R is on the agenda in the coming days. What a long, strange trip it's been...

What do you think? After a run at the highest office in the land, should McCain be thinking of ways to spend his retirement? Or should people who are as passionate about their jobs as he is keep working as long as they can?
Posted: 11/5/08