News
The latest news on this change — carefully culled from the world wide web by our change agents. They do the surfing, so you don't have to!
'Till Co-Pays Do Us Part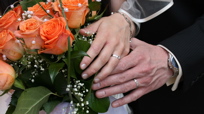 Sometimes the heart isn't the only part of the body that can lead a person towards wedded bliss. Across the country, couples are feeling pressure from their livers, kidneys and sometimes unborn children to start planning a wedding.

Although it's hard to pin down a number of just how many couples have gotten hitched in order to quickly include one spouse on a health insurance plan, The New York Times found anecdotal evidence of a growing trend. Their reporter spoke with one Kentucky wedding officiant who said that one in 10 couples who come to his chapel to get married claim they moved things along for health insurance reasons.

One couple, Brandy Brady and Ricky Huggins, decided to move up their date to October so that Brady can use Huggins' insurance to help offset the costs of the weekly dialysis required to treat end-stage renal disease. The couple was initially hesitant about changing their date for such an unromantic reason. But, it seems they've decided that it's their love that matters most.

"I know I love her," Huggins told the Times, "and I know I want to spend the rest of my life with her. The reasons and how fast we do it, that's just secondary."

It's unfortunate that so many people are struggling with health care issues today, yet heartening to read that love can be part of the remedy. Do you know anyone who has changed their wedding plans for health insurance purposes?
Posted: 8/14/08