News
The latest news on this change — carefully culled from the world wide web by our change agents. They do the surfing, so you don't have to!
Is There an Ideal Age to Get Married?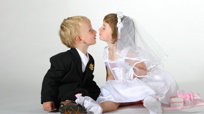 "When did you get married?"

It was a simple question that would be harmless to most people except that in this case it was "Today Show" host Meredith Vieira asking her co-host Matt Lauer, who is bordering on Ross Gellar levels of serial marriage and divorce. Although things got a little awkward, Lauer seemed unruffled by Vieira's slip.

Vieira, who married in her 30s, represents a growing segment of the population who is delaying marriage. In fact, according to the U.S. Census, the average age for first marriages is almost 26 for women and 28 for men, which is the oldest age for marriage since the U.S. Census was started. But is this trend of delaying marriage improving relationships?

Experts are mixed on whether waiting to get married ultimately decreases the risk of divorce. Most experts agree that marrying before age 20 is likely to lead to divorce because the individuals are still in the process of self-discovery. But after that, couples who marry in their 20s run about the same risk for divorce as couples who marry in their 30s.

What do you think is the ideal age to get married?
Posted: 11/11/08