News
The latest news on this change — carefully culled from the world wide web by our change agents. They do the surfing, so you don't have to!
Damp Nuptials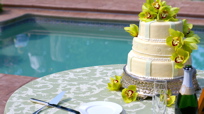 Let's say, on your wedding day, that the groom's best man accidentally trips and pushes the bride and the officiant into the pool. Then, let's say that video becomes national news. How would you react?

Well, take a look at this video and let us know what you think.

Maybe the better question is, would you have your wedding in front of a pool?
Posted: 10/22/08