News
The latest news on this change — carefully culled from the world wide web by our change agents. They do the surfing, so you don't have to!
Anything but the Dress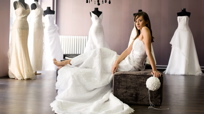 With the economy in its present dreadful state, many brides in the process of planning their wedding have been forced to cut back. While many might be willing to scrimp on centerpieces, flowers and even cake (Grandma and Grandpa can share a piece, right?), most brides would rather have their grooms go barefoot than give up their dream dresses.

"When a woman thinks about her wedding day at age 10, 11, 12, she's not thinking of the honeymoon or the reception, she's thinking about walking down the aisle and all eyes on her. The perception of who you are and what you're about is all related to the dress," Jennifer Hicks of Modern Bride Magazine told the Associated Press.

The article says that many brides have their dream dress in mind long before they even find a spouse. Is this the case for you? Has the design changed over the years? Are you willing to splurge for the dress of your dreams?
Posted: 7/30/08