News
The latest news on this change — carefully culled from the world wide web by our change agents. They do the surfing, so you don't have to!
Packing Up and Moving On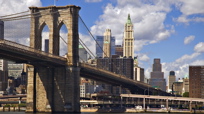 Why is moving so hard? Well, for starters, it's the third most stressful event in a person's life, behind divorce and death. Really! Perhaps it's because moving happens unexpectedly sometimes (you or your significant other are relocated for work, for example.) Maybe the fear of the unknown gets us in the gut—what's it like there? who will my friends be?—that we can't seem to move through it. And then there's the solitude. Even if you are moving with a partner, you just don't expect to feel so lonely when you arrive in the new place.
Fortunately, for every negative side there is to moving, there's a big positive looming in the change. Here are 5 things you won't expect, and 5 hidden benefits to moving to a new city.
You Won't Expect:
1. To love it. There's a freedom in arriving at a destination unknown. Everything is a blank slate. This is your canvas and you can't wait to break out the paints!
2. To spend so much. It's very important to account for all expenses not just for the physical move but in the few days after. You'll find all those things you tossed in a hurry you now need again (like lightbulbs, pillows or even strappy slingbacks for the first party you're invited to.)

3. To feel strong. You should! Moving is a very independent decision that can build tons of confidence. Knowing that you can survive this means that you can survive just about anything.

4. To be homesick two or three months in. Once the whirlwind of moving and unpacking subsides there can be a latent sadness or depression. Be ready for that and know it's totally OK. Have a good friend at the ready to listen and reassure you that you've made a good choice.

5. How long everything will take. You're learning a new place-expect to get lost or make silly mistakes. Give yourself extra time to get around, and get some rest (with lack of sleep comes poor choices.) It also takes time to make friends. Most experts say it takes two years to really feel rooted, make friends, and not feel like a newcomer anymore.


You'll Get to Experience:
1. A new place. Trying on a new lifestyle (especially if you move from a big city to a small town or vice-versa) can be a really fun change. You might become a cyclist or pedestrian instead of a driver, or learn to appreciate a slower pace in a smaller town.
2. Cultural differences. This especially holds true for those relocating to a different country. But even those moving within the US may experience a little culture shock! Embrace it and learn as much as you can about the culture of your new home. If you're single, now's the time to use it to your advantange and meet someone cute who can show you around!
3. Meeting people you were supposed to meet. A friend of First 30 Days moved, out of nowhere, to Spain. The next thing she knew, she was in love with a man she met her first night there! While that may not happen for everyone, there's something to being open to what the universe brings your way.
4. Getting on track. Your career, your relationship and your spiritual life can all benefit from a move, as it offers pathways for great growth in many areas.

5. Gloat. Not to say that you should, but how great will it feel when everyone back home sees what a great time you're having as you settle in to your new digs? There's nothing like a little "See? I told you this would be great!" to all the nay-sayers who were less supportive during your transition. Enjoy the fact that you took this leap!
Posted: 12/16/08