News
The latest news on this change — carefully culled from the world wide web by our change agents. They do the surfing, so you don't have to!
New City, Same Stuff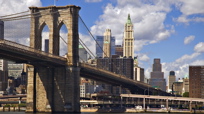 As you're considering relocation, how are you going about figuring out whether a city is right for you? You could ask friends and family for advice, visit the city, or just wing it. Or, you could visit Neighborhoods.Homethinking.com and compare your current location with a few others.
Just type in the name of the city in which you live and the one you're considering. The site will then give you a listing of neighborhoods in your city alongside neighborhoods in the prospective city that are similar. We tried it with Brooklyn and Washington DC, and the results were fairly spot-on.

The drawback is that the site doesn't account for all cities. We didn't see Dallas, Houston, Austin (what...you don't like Texas? Or is it because it's a whole other country?) No Kansas City or Indianapolis either. Strangely, Naples is a choice...

Would you use a service like this to choose a new neighborhood when moving to a new city? And are you looking for something just like what you're leaving, or does a move mean a total change of lifestyle for you?
Posted: 10/14/08