News
The latest news on this change — carefully culled from the world wide web by our change agents. They do the surfing, so you don't have to!
Mega-Storm Wake Up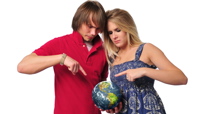 If you're stuck in the northeast, can't get away, and feel those minutes ticking by slowly, why not add fuel to fire, heartache to misery, detail to detail? Here's a link to weather.com's story that tracks minute-by-minute developments from this morning's winter storm.

You can read the overall report, then see maps for different major cities/"corridors." You can read the news briefs that get posted every 15 minutes or so and see videos of troublespots. Then you can decide to stay in or go out.

It's a great day to be a remote contractor, that's for sure. So after you make a cup of hot chocolate and test that Snuggie you bought a couple of weeks ago, you can still get your work done.
Posted: 3/2/09