News
The latest news on this change — carefully culled from the world wide web by our change agents. They do the surfing, so you don't have to!
Damaged Goods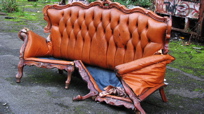 You're excited and scared at the same time about moving to a new city, but you hired help so that all of the responsibility and hard labor doesn't fall on your heavy shoulders. You bought the right boxes and managed to fit everything into them, carefully packing the breakables and making sure you didn't leave anything behind.
Now it's time to unpack! Wait, suddenly you realize all of your boxes didn't quite make it to the new house. The movers! Just like traveling by plane, stuff can get lost when you are in flux. If it does, you can file a loss claim, but moving companies vary in terms of how much they will reimburse if the items are indeed lost, so remember to look into the available insurance policies. The
American Moving & Storage Association
(yes, there is one!) has resources for settling disputes as well.
Before there is even a chance for anything to get lost, number your boxes so that you can keep track of how many there should be upon arrival. Do you have any advice, hopefully not from experience, about moving debacles? [
Real Simple
]
Posted: 6/27/08