News
The latest news on this change — carefully culled from the world wide web by our change agents. They do the surfing, so you don't have to!
Big Apple-Bound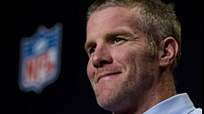 The news has been out for more than a week and you're probably sick of hearing about it, but we wanted to put our spin on it!

The name "Brett Favre" is almost synonymous with the Green Bay Packers, but in a surprise move to come out of retirement (again!), Favre joined the New York Jets for the upcoming football season. Football trades are commonplace, but it's often forgotten that a trade can mean a move across the country to an unfamiliar city, one that you and your family did not choose.

More than 15 years ago, Favre was up for a possible trade to the Jets that would never pan out, but he reflected on it in 1997, saying, "I don't know if I would've been too good in New York. That's too big a city for me." Fast-forward to 2008 and Favre sounds a lot less timid: "Am I ready to face it, handle it and deal with it? I think so. I think it's a great opportunity."

The Favre family will settle in the New Jersey suburbs, close to the Meadowlands stadium, and thus will avoid much of the "New York" part of the trade. Nonetheless, moving to a new city, no matter how similar to a previous residence will naturally take some getting used to. Like Favre, it's best to think about it as a "great opportunity" and proceed from there.

Have you made a small-town-to-big-city move? If so, how did you cope with all the changes?
Posted: 8/14/08