News
The latest news on this change — carefully culled from the world wide web by our change agents. They do the surfing, so you don't have to!
Be My Pal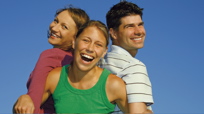 You're unpacked, your new place is set and you finally figured out the quickest ways to get around your new neighborhood.

Now you're yearning to bond with new friends. It's a weird concept when you consider the fact that the last time you might have felt this nervous about making friends was in grade school. Still, there are a few ways to ease into it. Here are some to get you started.

*Take Fido for a walk. Getting out and about with your pooch is a great way to meet new folks. Not only will the animal lovers flock to meet your furry friend, but it will also give you an opportunity to introduce yourself and chat for a bit.

*Sign up for a class or group. Name your passion and there's bound to be a group for it. Running, cooking, reading—whatever you pleasure is, getting together with other people who share your hobby is a fabulous way to make instant friends.

*Say yes! You may want to spend time setting up your home or you may just naturally be a homebody, but when you are in new city it is imperative that you accept invitations. Join coworkers for dinner or attend the neighborhood barbeque. You will be glad you did when you walk away with some new pals.

The bottom line is that it's tough to be the new guy or gal, but the good news is that most people have been in your situation at some point in their lives. Be confident, put your best smile on and say, "Hi!" You'll be glad you did.

We want to know: What are your tips for making new friends?
Posted: 10/29/08