News
The latest news on this change — carefully culled from the world wide web by our change agents. They do the surfing, so you don't have to!
Man Up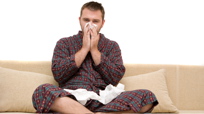 Over the past few months we've written posts about how "real men" suffer from depression, post-partum depression, and breast cancer. Now that the New York Times has published an op-ed piece about how "real men" suffer from the side effects of prostate cancer treatment, we're beginning to detect a pattern.

Apparently being ill in any form is just not macho in our culture, and seeking treatment is for sissies. A football player who tackled depression said he was embarrassed to admit he was sad to his locker room buddies. Doctors perform "pec checks" to lessen the awkwardness for men looking to get a breast exam.

This might explain why, according to WebMD and various other sources, men tend to only go to the doctor when they get to the point of being extremely ill.

What can or should we do as a culture to change this image in our society? Should we start by hiring the editors of Esquire or GQ to make over our nation's medical centers? Add Wii and Wi-Fi? What does it take to get you, or the man you love, to the doctor?
Posted: 11/21/08