News
The latest news on this change — carefully culled from the world wide web by our change agents. They do the surfing, so you don't have to!
Make Way for Movember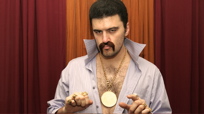 Excuse me, Sir, I'd like to talk to you about your prostate. Uhm, awkward!

Experts say that one of the central reasons men take so long to have their prostate cancer diagnosed is that it's just not a fun subject to bring up. Unfortunately, this awkward feeling can come right along with your diagnosis. Nobody really wants to sit around with their buddies and explain that yes, you can get cancer...down there.

Keeping quiet about your diagnosis isn't a helpful way to manage your prostate cancer and that's why we're super excited for Movember! The event started five years ago in Australia (where "Mo" is slang for moustache) as an event to raise money for prostate cancer. During the month of November, men pledge to grow out their moustaches and at the end of the month friends compare and give awards for the best style. It caught on with Aussie rugby players and has become something of a national phenomenon. Organizers are hoping the trend will catch on in the U.S. and Britain because it's such a great way to bring up the subject of prostate cancer.

This is the perfect opportunity for those of you who have been searching for the perfect excuse to look like Tom Selleck or Freddy Mercury. Even the most vigilant human resources department will have trouble getting in the way of someone sporting a Yosemite Sam-like handlebar in the name of cancer research.

You can even throw your own Mo party. The official Movember website has instructions and information about events already taking place where dudes with the best staches get tickets to the Playboy Mansion. We're letting you in on this early so you have time to get a group of moustache-loving friends together in time for Movember.
Posted: 10/16/08