News
The latest news on this change — carefully culled from the world wide web by our change agents. They do the surfing, so you don't have to!
Post-Op Love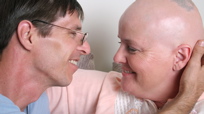 Let's play a little game. We're going to give you a quote, and you guess who said it.

"Just waking up every day is an orgasm—an emotional orgasm. I know there are more ahead of me. I live for that."
Was it...
A) Angelina Jolie
B) A German fashion designer
C) A metastatic breast cancer survivor

Ok, let's try another one:

"I know how the male mind operates: Breasts are a big part of the package. So I tried to make up for it with my ass."
Was it...
A) Jennifer Lopez
B) A female stand-up comedian
C) A metastatic breast cancer survivor

You're probably starting to get the point. The answer to both of those was, of course, "C." Being open about your breast cancer on a huge website like MSNBC is one thing, but being brave enough to share the intimate details of trying to rebuild your sex and dating life afterwards is another.

Stefanie LaRue heroically tells of how men would compliment her on her nice hair (a wig), how others would shy away as soon as they heard her diagnosis and how eventually, she grew confident enough to go out and find new romance. As you can tell from the above excerpts, her story is candid, inspiring and a must read for anyone about to re-enter the dating scene.

Have you been searching for new romance since being diagnosed? What have been some of your greatest challenges?
Posted: 10/30/08