News
The latest news on this change — carefully culled from the world wide web by our change agents. They do the surfing, so you don't have to!
Making Treatments Bearable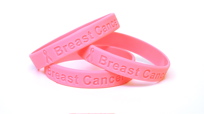 There's a lot of encouraging news in the world of breast cancer treatment that gives hope to those who are fearing the lengthy and painful treatments.

According to Bloomberg News, Canadian researchers announced yesterday that patients with early-stage breast cancer could benefit from just three weeks of radiation, instead of the five weeks typically prescribed. This news would help up to 40% of breast cancer patients not only get their treatments over with quicker, but newly diagnosed women will have a shorter wait time to receive treatment.

In another report in The Washington Post, acupuncture has been shown to help ease side effects that patients feel as a result of radiation treatment. Not only was it more effective than drugs in treating hot flashes some women experience, but it had longer-lasting effects than medical treatments. Scientists aren't exactly sure how or why acupuncture worked so well in the study, but are hopeful this could become an important part of treatment plans in the future.

If you're currently going through your own treatment for breast cancer, is it helpful to know researchers are looking for ways to make it more bearable? Do you envision a world without breast cancer in the near future?
Posted: 9/23/08