News
The latest news on this change — carefully culled from the world wide web by our change agents. They do the surfing, so you don't have to!
About Face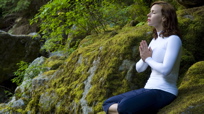 Taking on breast cancer can feel like the ultimate full-time job. There are the doctor's visits, the time spent explaining your condition to caring family and friends and not to mention the everyday tasks of taking care of yourself and your family. Well, you take vacations from your regular job, right? Why not take a retreat from your cancer? Here are three places that can help.

* Infinite Boundaries: Located throughout the Midwest, their retreats feature discussion groups, creative arts and low-impact outdoor activities. Check the web site for information about specialized retreats for solo women without partners, and women with metastatic breast cancer. The four-day, all-inclusive event costs $300.

* Betty J. Borry: If you're looking for adventure, check out one of the BJB retreats. Survivors do everything from kayaking to snowshoeing in various New England locations. Costs vary, but one recent retreat cost $160 for the weekend.

* Casting for Recovery: Who ever thought that fly fishing could be good therapy? Well, the founders of Casting for Recovery did and now they host retreats all over the country where survivors and patients can bond over this "lifetime sport." Contact the organization for costs and requirements.

These are just a small sample of the programs that are out there. Check them out. A couple of relaxing days spent with other survivors might be just the pick-me-up you need.
Posted: 10/21/08