News
The latest news on this change — carefully culled from the world wide web by our change agents. They do the surfing, so you don't have to!
What A Nightmare!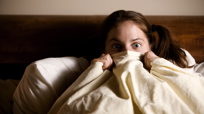 You know those nights when you're suddenly sitting up in a cold sweat, catching your breath and sighing with relief that "it was only a dream?" The inevitable nightmare has visited you yet again, and taken away valuable rest from your night. ABC News reports on a small study coming out of the United Kingdom that finds women have more nightmares than men and remember them more clearly. What could it mean?

Rosalind Cartwright, a dream researcher says, "It seems to be related to women being a little more inwardly oriented, paying more attention to their feelings, and being more self-critical." This self-criticalness is then taken to bed and processed over night, accounting for more prevalent nightmares.

Cartwright has gone so far to come up with a "treatment program" for dealing with nightmares that asks patients how they would change this disturbing overnight content. Jennifer Parker, a psychologist, says, "I think dreams are useful for determining what we might need to change in our lives."

What do you think? Can making change easier be something to be worked on literally while you sleep, by changing your dreams into more positive experiences?
Posted: 9/18/08