News
The latest news on this change — carefully culled from the world wide web by our change agents. They do the surfing, so you don't have to!
Wha' Happened?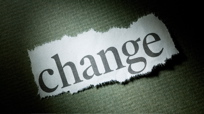 Last night the President gave his first big speech as President. So what are we to make of it? Good question since some cable networks ran audience-reaction distractions onscreen during the speech. Who knew what to think while he was talking?

Of course, the question is rhetorical, mais ou sont les neiges d'antan? In other words, we must ask, where is the unfiltered access to information of yesteryear? Why can't we watch news events without a crawl or a rating system like audience-reaction gauges that update moment by moment while The Prez speaks?

We have no answers, just questions. If you were distracted, too, or missed some of the speech and commentary last night, here's a fair report to get you started. It's from the Voice of America.
Posted: 2/25/09