News
The latest news on this change — carefully culled from the world wide web by our change agents. They do the surfing, so you don't have to!
"Think Small, Not Big"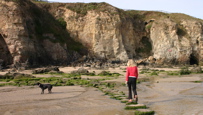 Wayne Dyer is the "father of motivation" to his readers, and has recently put out a book entitled, Change Your Thoughts—Change Your Life: Living the Wisdom of the Tao. (The Tao Te Ching is a book of wisdom from China). With over 30 books, many of which are bestsellers, Dyer writes a lot about change, spirituality and general self-help issues.

He stopped by Oprah's webcast as part of the "Soul Series" to discuss his new work, as well as to talk about the year he spent "living the Tao." He drops a few important excerpts that relate to the idea of change in general, such as, "The journey of a thousand miles begins with one step" and "Think small, not big."

Dyer also explains that most people know they want to change, and they can even have the same thoughts about changes every day but rarely ask what to do next. The key to change is taking that one step forward.

To listen to Ariane's interview with Wayne Dyer on Change Nation, click here.
Posted: 6/18/08