News
The latest news on this change — carefully culled from the world wide web by our change agents. They do the surfing, so you don't have to!
The Company You Keep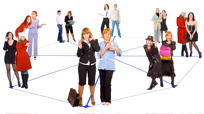 Curt Rosengren of U.S. News & World Report writes, "Want a quick prediction of your potential in life? Take a look at the people around you." It sounds counterintuitive, to rely on other people to help you make change easier, but when you think about it, they help set the tone of your daily life. What kind of tone is it?

Think about how you feel after hanging out with each and every person that factors in to your life on a regular basis. What do you talk about? Are there people who leave you feeling down afterwards? Are there other people who make you feel like you can do anything?

Rosengren writes, "When you surround yourself with people who are positive and motivated, who believe in their potential, a funny thing happens. Even if nothing else in your life changes, it starts to rub off on you." Having a positive outlook can be contagious and that's one bug you won't mind catching!
Do you find yourself more hopeful about your own future when you hang out with more motivated people?
Posted: 9/2/08