News
The latest news on this change — carefully culled from the world wide web by our change agents. They do the surfing, so you don't have to!
Mercury Retrogrades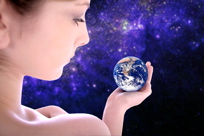 To appreciate a Mercury Retrograde, one needs to recognize what it symbolizes astrologically. Mercury rules mental capacity, how the mind works, attitude, reason, body language (gestures), spoken and written communications, self-expression, and travel.

When Mercury is positive in a person's birth (natal) horoscope, s/he can possess eloquence, literary ability, good memory, and a quick wit. When it is negative, there can be deceit, gossip, indecision, nervousness, and the inability to express oneself clearly. Mercury rules two signs, Gemini (nervous system, hands, arms, shoulders), and Virgo (intestines, spleen).

Energy is flowing inward instead of outward, so Mercury isn't as efficient as it usually is. We need to help it by being more efficient in our own lives, and by not moving forward too impulsively. Astrologers believe that planets in retrograde are more powerful and more introspective in their natures. Mercury goes retrograde about 3 times per year on average and each time is retrograde for about 3 weeks. To get the most out of these retrogrades, it is important to be retrospective, nostalgic and forward-looking all at the same time.

Mercury Retrograde Suggestions for Positive Changes

Business Tips
Re-confirm all appointments you have made.
Leave telephone numbers where you can find them easily
Keep all sales slips in case you need to return an item.
Ask questions to clarify about the time, place and purpose of upcoming meetings.
Read the fine print on agreements and contracts.
Research facts and check the background material.
Go back over your records of the past few months and re-contact customers and clients who failed to respond, or give them information that was previously not available.
Edit and resubmit writing or proposals that were not previously accepted.
Back up all important files on your computer now.
Leave with extra time to get from one appointment to the next.
File all those papers on your desk.
Go over all past records to make sure they are in order.
Get your tax papers up to date.
Research. Go to the library or online to do any research that you have put aside
Be clear about what you need to say to your colleagues at work. Communications can be unclear during this time
If you are a salesperson, call old leads now, the ones you already spoke to before that didn't respond.
Keep a TO DO LIST on your desk where you can't miss it. Write every day what you need to get done, especially anything from the past that is unfinished.
Personal Tips
Re-connect with yourself and others. Call that sibling or friend you haven't spoken to in a long time.
Resolve issues that separate you from others. Words unspoken between you and someone else causes a separation.
Relax. If you haven't taken time out for yourself, now is the time to do it. Pamper yourself. Refresh your mind and body.
Clean out your closets and get rid of whatever you never wear.
Clean out the drawers in the kitchen, your bureau, desk, etc.
Bottom line: Get rid of anything you no longer need. Use it or lose it!
Keep a notebook handy and write down information so you remember the details.
Examine your goals and re-evaluate future plans.
Restart a diet or exercise program that has been neglected.
Finish projects that have been hanging around for a long time.
Listen carefully to others, because you could misunderstand them. Many silly arguments can take place during this time. Don't take it to heart. It will pass.
Travel Tips
Bring a map: Detours and traffic jams are possible.
Use carry-on luggage.
Check all safety equipment.
Check tire pressure and all fluid levels in your car.

Mercury Retrograde is about re-organization. Look around at your life, be honest and admit to yourself where you need to make changes and get organized. No procrastinating now! Once you are proactive, the results will manifest. Effort and determination are the keywords here. Re-Do whatever needs redoing in all areas of your life. Mercury gives you the time out to do this when it pushes everything back in time. It's sort of like a time machine. Whatever you didn't complete the first time, now you have a second chance to get it right! The big benefits begin to show up after Mercury has gone direct again. Check the dates below to know when to move back and when to move forward. It will make your life a lot easier.

MERCURY RETROGRADES IN THE FUTURE
2008…This is the final Mercury Retrograde for 2008: 9/24/08-10/15/08.
2009-2010…1/11/09—2/1/09; 5/7/09—5/30/09; 9/6/09—9/29/09; 12/26/09—1/15/2010.
Source: Kathryn Howard, www.allgoodthings.com, and Jeffrey Brock, www.jeffreybrock.com
Posted: 10/1/08