News
The latest news on this change — carefully culled from the world wide web by our change agents. They do the surfing, so you don't have to!
Ch...Ch...Changes!!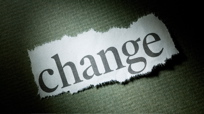 If you haven't already figured this out, we're all about change here at First30Days. And our tech team has been hard at work updating the site to make it an even better experience for you!

We figured we'd take some time this week to explain these new features to you. So for the next four days, we'll explore a new element to the site and ask you for your thoughts.

Your Profile
This is where our tech team really went to town! But of course, to see all these great changes you have to sign up!

Once you log in, you'll see a profile link on the top right of the page, just underneath our search bar. Consider this to be your new starting point at First30Days. Here, you can leave a status message letting everyone know how you're feeling about change (or anything else on your mind), and you can fill out your Changeography, or what we like to call your Change Resume.

Your change resume is your message to the world about the changes you've experienced and the changes you're going through, plus it gives us a glimpse into your personality. For example, charmer, a twentysomething from Lexington, SC, says the best change he's ever made was joining the Navy. Tiagomarques from Portugal says his favorite people in the world are his children and his favorite guilty pleasure is ice cream. And eluetzow says her best friend would say she's "bubbly" and her biggest change was moving to Australia.

Also on your profile page, you can see all your Q&A and tip submissions, as well as change your personal account information.

So play around on your profile, and heck, check out someone else's Changeograpy. Let us know what you think of this new setup in the comments below.
COMING UP THURSDAY: Did you know you can show encouragement to others on the site? On Thursday, we'll tell you how!
Posted: 9/30/08