News
The latest news on this change — carefully culled from the world wide web by our change agents. They do the surfing, so you don't have to!
Change is Good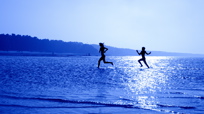 Mac Anderson, the founder of Simple Truths and Successories believes in the simple truth that "less is more." His company produces beautiful gift books that anyone can read in less than 30 minutes. They may be short on paper, but they're long on meaning. The videos his company produces are also short and inspirational, like this one about change being good.

I like the Yogi Berra saying. What's your favorite?
Posted: 12/8/08