News
The latest news on this change — carefully culled from the world wide web by our change agents. They do the surfing, so you don't have to!
Bipartisanship 101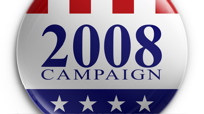 Here's a lesson in bipartisanship whether you agree or not. McCain speaks on Meet the Press. Perhaps, though, he shouldn't be the one to criticize Obama. Whatever McCain says, it's still barely over three months from the election. His message can't help but carry a subtext. So, maybe another Republican should do the criticizing while McCain keeps his own counsel for awhile.

His statements may be to the point. It's hard to agree without qualifying them. After all, McCain's campaign rhetoric itself got a little more testy than he promised it would. Everyone makes promises. Let's just see how it all plays out.
Posted: 2/16/09