News
The latest news on this change — carefully culled from the world wide web by our change agents. They do the surfing, so you don't have to!
A Welcome Source for News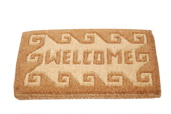 Here's a site, Good News Daily, that collects all the good news its people can find and posts it daily on the web. At first, we wondered a bit why we'd want to come here. After all, there are no salacious stories, no reports of stars wrecking their lives, or celebrities getting divorced publicly. But, that's kinda the point, isn't it?

Well, it didn't take long for us to warm up to the concept. Think about it. Isn't it odd to go somewhere for good news? We thought so but started to feel "good" about it. Good News Daily posts a Thought of the Day, a Hero of the Day, and a Good News Story of the Day. The site regularly watches these news sources: environment, entertainment, tech/science, business, sports, and—our favorite—philanthropy/altruism. Where can you ever expect to find such a source for good news?

And, guess what kind of weather the site reports? That's right. Good weather. Today's was for Honolulu, Hawaii. Sound peachy to us.
Posted: 1/21/09