News
The latest news on this change — carefully culled from the world wide web by our change agents. They do the surfing, so you don't have to!
Learning Compassion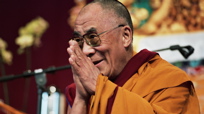 In a Huffington Post article with the funny title, "Chill Out: Compassion The Dalai Lama Way," Ed Shapiro tells the story of meeting the well-known spiritual leader while on his honeymoon in India. Shapiro echoes what many have said before about such an encounter, that in meeting the Dalai Lama, he came face to face with the epitome of compassion.

Compassion should be part of living more spiritually, but it can be difficult to define and even more difficult to achieve. Shapiro describes a compassionate person as "someone who was so ordinary, so simple and his feelings for others so genuine." In the words of the Dalai Lama, "My religion is kindness."

He makes it sound so easy! Can you think of examples of compassion from your own life, whether it was showing kindness towards someone going through a tough situation or you on the receiving end of that kindness?

Posted: 9/18/08