News
The latest news on this change — carefully culled from the world wide web by our change agents. They do the surfing, so you don't have to!
What Your Degree is Worth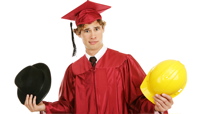 For most people entering college today, the hope is to find the intersection of passion and skill that can be turned into something bankable. You know, like a career or something. But really, people want to know what major will make them the most cash coming out of school (FYI, at this point, we're thinking a finance degree might not be a sure bet anymore.)
Careerbuilder.com has one of those ubiquitous lists of the ten most popular majors today and what a grad might stand to make as a starting salary.
Biology
A general biologist starts out at $38,896, while a biochemist makes slightly more at $43,961. Most in this field go on to get advanced science or medical degrees.
Business administration and management
Beginning salary: $57,132. You may go on to get an MBA.
Communications
Beginning salary: $30,921. The good news is that we'll always need writers and people who can turn out ideas!
Computer science
Beginning salary: $46,849. This field has lots of growth potential.
Criminal justice
Beginning salary: $38,182. The starting salary can be higher if you get a dual degree in psychology or sociology.
Elementary education
Beginning salary: $29,414. An ever-popular and important major, yet still the most underpaid.
Marketing
Beginning salary: $59,471. Creative types can find lucrative positions as they ascend the career ladder
Nursing
Beginning salary: $41,173. The largest industry in healthcare and always growing.
Psychology
Beginning salary: $46,153. Often requires specialized or advanced degree or additional study.
Political science
Beginning salary: $36,368. After this election season is over, you may want to work in government...or at least as a pundit.

Is your major on this list? Are the salaries what you'd expect? Sound off below.
Posted: 10/29/08