News
The latest news on this change — carefully culled from the world wide web by our change agents. They do the surfing, so you don't have to!
Working Out for the Planet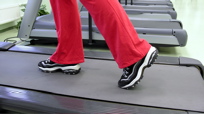 There are good kinds of energy use and there are bad. No one is questioning the health benefits of working out at the gym, but rarely does one think about the energy costs of running one. Those elliptical machines you're using and televisions keeping you entertained? They're sucking up far more energy than if you, say, ran in your neighborhood or went biking, but one gym is trying to change all that.

The Green Microgym, in Portland, OR (no surprise it's there!) wants you to do all the work! Gym members are actually helping to power the place through exercise! For instance, cycling on a stationary bike produces power that is then stored and later converted into electricity. It's nowhere near providing 100% of the power, but it sure is a start. Just imagine if you and the gym could have a give-and-take symbiotic relationship like Green Microgym is aiming for!

What do you think about going green while at the gym? Do you consider the energy output necessary to run your workout?
Posted: 9/19/08