News
The latest news on this change — carefully culled from the world wide web by our change agents. They do the surfing, so you don't have to!
Texas-Sized Wind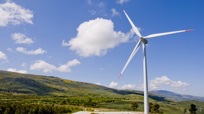 Everything's bigger in Texas, as the saying goes. Add the amount of wind power the state generates to that mental list of large things, because government officials in the state just approved a billion dollar wind-power project. Energy would be harnessed from the western, less populated part of Texas and transmitted east to more urban pockets, all without creating pollution.
So, the Lone Star State is
going green
! Construction on the wind farms would still take four to six years to be fully operating, but even today, Texas produces more wind power than all other states combined. Environmental organizations had hoped for an even more ambitious plan, but such steps still set the pace for the rest of the nation.
Priorities are shifting in these times of going green, as evident from the full support from oilman T. Boone Pickens, as well as State Representative Mark Strama's following declaration: "…we could position ourselves in Texas to be the world leader in wind and renewable energy in the next 100 years, just as we were the world leader in oil and gas for the past 100 years." Do you think Texas can change its image to a greener one now? [
MSNBC
]
Posted: 7/18/08