News
The latest news on this change — carefully culled from the world wide web by our change agents. They do the surfing, so you don't have to!
Tap into Eco-Friendliness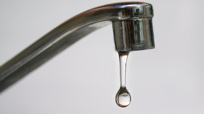 Tap water is not exactly a preferred beverage of choice. It often comes last on the list of offered beverages, after orange juice, soda, and even milk. Kind of like, "Oh, yeah, and we have tap water." (Insert wrinkled nose here.)

It turns out that water from the tap is just as safe as bottled water, and easier on the environment, too. After all, it's frequently tested for viruses, pesticides and icky chemicals. And when it comes to saving the Earth, drinking tap water helps cut back on the 2.5 million plastic bottles of water that Americans consume per hour.

Here are a few ways to make tap water work for you:

* Filters are your friend. If bare-naked tap water is not your cup of agua, then consider investing in a water filter, like a PUR water pitcher or hookup for the faucet. If you're unsure if your water filter is up to par, do some research at NSF International to check it out.

* Buy a reusable bottle. But avoid bottles made from hard plastic when making your purchase. They might contain bisphenol A (BPA), a chemical that is tied to several health conditions, including cancer and birth deformities. Purchase a BPA-free bottle or make the switch to a stainless steel sipper, like the ever-popular SIGG.

* Recycle, recycle, recycle! If you absolutely have to lean on a throw-away water bottle for your parched tongue, then at least toss the bottle in a recycling bin. According to experts, only about 12% of water bottles are recycled, with the rest finding a home in landfills or ocean waters.

If you are working on going green, then changing up your mode of water consumption is the way to go. It's a small change that can make a huge earthly difference. And if you are concerned about drinking from the tap, then consider checking out your city's water quality at the Environmental Protection Agency's site. That way you can feel safe about kicking back with some tasty tap water.

Are you a tap drinker or a bottled water devotee?
Posted: 10/14/08